Thanks to all of the new bookish followers I've acquired this year, and to those here previously for staying with me as I incorporate more book topics into this blog. Here's my reading journey for 2018, stats and cover photos compiled from Goodreads.
TOTALS: read 10,526 pages across 30 books
AVERAGE LENGTH 350 pages
SHORTEST BOOK: 128 pages
Fantastic Beasts and Where to Find Them… by Newt Scamander
LONGEST BOOK: 740 pages
The Hour I First Believed by Wally Lamb
MOST POPULAR: (my #1 favorite read of the year)
2,108,915 people also read
The Fellowship of the Ring by J.R.R. Tolkien
LEAST POPULAR
251 people also read
Ways to Hide in Winter by Sarah St. Vincent (a debut author to watch)
MY AVERAGE RATING FOR 2018 = 3.5 stars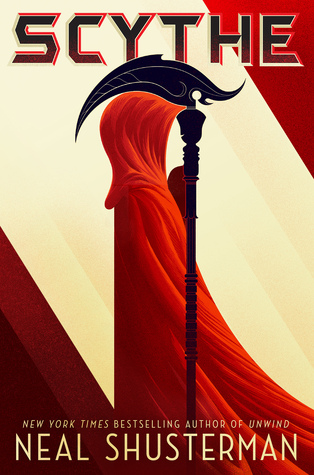 HIGHEST RATED ON GOODREADS:
Scythe by Neal Shusterman
4.36 average
Breakdown by Genre (Google spreadsheets)
As an adult, I've become a non-fiction reader. It's an occupational hazard of working in a library where so much educational material is at my fingertips, easy to pick up off the shelf and read anytime. 3 of these nonfiction books are unaccounted for in the Reading Challenge because I used them for speech and debate topics rather than reading cover-to-cover. Even after subtracting that 9%, Nonfiction was still my most-read genre at 20.3%. One new trend this year was a major increase in Fantasy and Horror while a decrease in Literary fiction and Memoirs occurred compared to past years. **This could predict an overall shift in pleasure reading as I collectively ranked my Fantasy/Horror reads at 3.83, while the literary fiction and memoirs represented an unsatisfying 3.37 stars.
Bookish Jay and the Reading Mermaid Challenge: wrap-up
My rating system:

★★★★★ =legendary
★★★★☆ =I enjoyed it despite minor flaws
★★★☆☆ =I liked it
★★☆☆☆ =I'd skip it
★☆☆☆ ☆ =Hate is a strong word, but so is my loathing for this book

I've linked every book I reviewed in the title
1. A classic, defined loosely or found on either of these sources: Modern Library 100 Best Novels or Radcliffe's 100 Best Novels. I switched The Fellowship of the Ring: Being the First Book in the Lord of the Rings by J.R.R. Tolkien ★★★★★ to a classic read, it's earned that legendary status. However, I did read a Modern Library 100 best book too, see #30*.
I have the deepest affection for the world of Middle Earth, these timeless characters and their perilous plight. Especially winning is the notion that the smallest figure can achieve the greatest feat of heroism by conquering an evil that underestimates his bravery and heart.
2. Adventure awaits! Choose a rather adventurous read. Scythe (Arc of a Scythe #1) by Neal Shusterman★★★★☆ Mind-blowing, intense and thoughtful. A joy for readers who crave a mental workout as it raises tons of questions and what-ifs but doesn't provide all the answers. I'm already anticipating the adrenaline rush for when I read the sequel in 2019.
3. The next one in a series, there is always another one to get to…The Outsider by Stephen King ★★ 1/2☆☆☆ (I didn't know it at the time, but some of these characters are a continuation of the Mr. Mercedes series) A strange hybrid of brutal police procedural that devolves into a heavy-handed monster hunt by uninspiring characters.
4. A purple hued tome, be it lilac, lavender or deep royal purple. Bibliophile: An Illustrated Miscellany by Jane Mount ★★★★☆ A beautiful tome that would make glad the heart of any book lover (even if it's slightly more periwinkle blue than purple). Brimming with bookstacks of every conceivable genre, the original artwork is charming and the wealth of information fascinating. My tbr list has doubled due to reading it.
5. A memoir. Secrets for the Mad: Obsessions, Confessions, and Life Lessons by dodie ★★☆☆☆ A successful You-tube songstress with good intentions but questionable wisdom imparts shallow lessons on various topics. Admirable in it's attempt to bring awareness to mental illness.
6. A story set in a forest or mountains, or depicting either on the cover. The Bear and the Nightingale by Katherine Arden ★★★★☆ Arden has a voice as strong as any author on this list and her Russian folktale was the most satisfyingly creepy story I've read in ages.
7. An epistolary novel, told in letters or journal entries. Dear Fahrenheit 451: Love and Heartbreak in the Stacks by Annie Spence ★★★★★ Hilarious. If you don't love this, do you even love books??
8. A collection of short stories. Uncommon Type by Tom Hanks ★★★☆☆ An uneven collection of profound and mundane moments that make up American life wrapped in a wave of nostalgia.
9. Pick up one of those neglected TBR books you have lurking about. I know you do. The Night Circus by Erin Morgenstern ★★★★★ An epic tale of star-crossed love that shimmers with light, glows with indelible imagery and whisks readers away to a circus where dreams come true. That's storytelling magic.

10. A story set in the Middle East or Asia. I am Malala: how one girl stood up for education and changed the world by Malala Yousafzai with Christina Lamb ★★★★☆
I've explored a lot of female-empowerment reads in 2018, both fiction and nonfiction, but Malala's personal story rises above the rest in its innocence, inspiration and simple call to fairness that's the very opposite of entitlement. A powerful testimony of the demand for educational equality and universal understanding.
11. Be extra naughty…. no… not that kind of book (well, unless you want)… read a banned book! The Curious Incident of the Dog in the Nighttime by Mark Haddon ★★★★☆ A brilliantly realistic look into the mind of a teen with autism whose literal frame of reference sparks frustration and inspiration to those who encounter it, including the reader.
12. Art and literature, whether just a gorgeous cover or actual art is in the storyline. Fantastic Beasts and Where to Find Them by Newt Scamander ★★★☆☆ A cute informative extension to the wizarding world in the form of a creature guide.
13. A heart pounding thriller! The Chalk Man by C.J. Tudor ★★★☆☆ Pulse-pounding in the psychological sense, a strong story loses out to a throw everything-but-the-kitchen-sink-at-it ending.
14. Non-fiction to tickle the brain cells. Men Explain Things to Me by Rebecca Solnit ★★★★☆ An eye-opening treatise on the ways, large and small, that women and girls are made to feel that their thoughts, opinions, bodies and very lives are less valuable than their male counterparts. An important and revelatory work by an author who is becoming a voice of her generation.
15. A book from the library. G'morning, G'night!: Little Pep Talks for Me & You by Lin-Manuel Miranda, illustrated by Jonny Sun ★★★☆☆ A sweet book of self-affirmations told in parallel structure to be read at the beginning and end of each day. Real talk and clever wordplay create an effective format for a pep talk. I picked this up for my speech students to use, but found it just as helpful for myself in times of anxiety and doubt. It doesn't hurt to read it in the voice of Lin-Manuel Miranda.
16. Historical fiction. The Great Alone by Kristen Hannah ★★★☆☆ Thinking back on this read of last winter, I was maybe too censorious in my review of a worthwhile story. But I still believe it was over-hyped and sparked more frustration with the characters' passivity than it did empathy.
17. Get your microscope and pocket protector ready… a book dealing with some aspect of science. I'll Be Gone in the Dark: one woman's obsessive search for the Golden State Killer by Michele McNamara ★★★★★ A ground-breaking novel in the true crime genre, worthy of all the hype. It explores how innovative tech methods and a bit of crowd-sourcing can assist in solving cold cases, specifically that of the chilling Golden State Killer who terrorized California for a decade and eluded capture for forty years. Being fully absorbed by this book the same month that the GSK was caught is about the most on-trend my reading habit has ever been.
18. A book with a bird, on the cover or in the plot. Bird Box by Josh Malerman ★★★★☆ Everything I want in a post-apocalyptic horror tale and then some.
19. A book with a child protagonist. The Last Child by John Hart ★★★★☆ A story of grief and loss, love and acceptance; this novel delivered tough lessons that reverberated for a long time after reading. Displaying a strength of spirit that uplifted a devastatingly heartbreaking read,
young Johnny Merriman was one of the most memorable characters I met this year.
20. It's about time this one happened: a book dealing with scent, fragrance or perfume. Essence and Alchemy: a book of perfume by Mandy Aftel ★★★★☆ In what is probably the book I found most informative, a whole world of perfume's past and present was illuminated for me.
21. Travelogue, a book taking place on a journey. The Power by Naomi Alderman ★★★★☆ (The characters country-hop and the stories takes place all over the globe) An arresting role reversal on the patriarchal structure of society as women become aware of their power to kill with an electrifying touch.
22. Re-trying that Hemingway, Steinbeck, or John D. MacDonald authored book. The Sun Also Rises by Ernest Hemingway ★★☆☆☆ Cold and removed, reliving a week in the lives of these forgettable characters attending the Spanish fiesta gave no joy, nor did it inspire a need to pick up Hemingway again anytime soon.
23. An epic tale. The Historian by Elizabeth Kostova ★★★1/2☆☆ A beloved scholarly approach to searching for Dracula that holds a little bit of appeal for everyone. Unfortunately, it's less than beloved by me as the story and characters have already started to fade.
24. A sensual read. The Alice Network by Kate Quinn ★★☆☆☆ More annoying than it was sensual or entertaining. I would have preferred a smarter biography depicting the real lives of female spies working for British intelligence in WWII to this contrived novelization.
25. A candle on the cover. The Hour I First Believed by Wally Lamb ★1/2☆☆☆ When a middle-aged couple's lives implode after surviving the Columbine shootings, a long, depressing self-indulgent journey ensues. By the time the rather late-arriving redemption comes, I no longer cared.
26. A book title that sounds like a cool name for a band. Notes from the upside down : an unofficial guide to Stranger Things by Guy Adams. ★★★☆☆ A mostly entertaining peek into the origins and influences of the Duffer Bros., creators of one of my favorite shows. I enjoyed the episode breakdowns and playlists.
27. A book that was gifted to you (provided as an ARC by Melville House). Ways to Hide in Winter by Sarah St. Vincent ★★★★☆ Thought-provoking literary fiction that was, at times, tough to read in it's authenticity and bleakness. Yet, it also reminded me of the small ways that kindness can thrive in the darkness.
28. A book by a debuted author. The Dry by Jane Harper ★★★☆☆ A tightly-plotted mystery/thriller which established a vivid sense of place. I just wish the ending wasn't as cliched as it felt. Although, I would reread this author.
29. A story based on mythology: Greek, Roman, Norse, Egyptian… any. Circe by Madeline Miller ★★★★☆ Exiled from a sea of uncaring gods, a witch becomes master of her island and a symbol of fragile but fierce humanity. This book brought out my inner warrior more than any other.
30. Second-hand stories, a book picked up in a thrift shop. Brideshead Revisited by Eveleyn Waugh ★★★☆☆ (thrifted from Bookish Pursuit on etsy) With prose as lush and superfluous as Hemingway's was sparse, yet I probably wasn't in the best mindset to fully appreciate Brideshead's charm. As the last book of the year, I rushed to finish this nostalgic tale of friendship and prejudice, however, I never found myself immersed in it. Deterred by the sheer number of detailed descriptions, friendships, unreasonable prejudices and tumultuous affairs, all deployed with judicious restraint. I couldn't help but feel (the alcoholism storyline notwithstanding) that it was a little too dry to digest.
More numbers just for fun:
audio books= 26.6%
debut reads=46.6% a whopping 14, factoring in short stories, epistolary collections, memoirs
female-authored=56.6%
library books=86.6% 🙂
Most memorable opening line= The Power/The Night Circus
Most memorable closing line= The Chalk Man
Thanks for following along on our reading co-challenge this year, I loved seeing all of the posts at #bookishjayandreadingmermaid on Instagram. Our 2019 Reading Challenge is shaping up to be extra fun, check it out on Jan. 2nd. And thanks for sharing and chatting books with me, little brings me greater pleasure; speaking of, what are your favorite reads this year?